Warning
: Invalid argument supplied for foreach() in
/home/customer/www/cutimari.it/public_html/wp-includes/class-wp-hook.php
on line
315
Warning
: Invalid argument supplied for foreach() in
/home/customer/www/cutimari.it/public_html/wp-includes/class-wp-hook.php
on line
315
Warning
: Invalid argument supplied for foreach() in
/home/customer/www/cutimari.it/public_html/wp-includes/class-wp-hook.php
on line
315
Warning
: Invalid argument supplied for foreach() in
/home/customer/www/cutimari.it/public_html/wp-includes/class-wp-hook.php
on line
315
Warning
: Invalid argument supplied for foreach() in
/home/customer/www/cutimari.it/public_html/wp-includes/class-wp-hook.php
on line
315
Warning
: Invalid argument supplied for foreach() in
/home/customer/www/cutimari.it/public_html/wp-includes/class-wp-hook.php
on line
315
Warning
: Invalid argument supplied for foreach() in
/home/customer/www/cutimari.it/public_html/wp-includes/class-wp-hook.php
on line
315
Warning
: Invalid argument supplied for foreach() in
/home/customer/www/cutimari.it/public_html/wp-includes/class-wp-hook.php
on line
315
Warning
: Invalid argument supplied for foreach() in
/home/customer/www/cutimari.it/public_html/wp-includes/class-wp-hook.php
on line
315
Warning
: Invalid argument supplied for foreach() in
/home/customer/www/cutimari.it/public_html/wp-includes/class-wp-hook.php
on line
315
Warning
: Invalid argument supplied for foreach() in
/home/customer/www/cutimari.it/public_html/wp-includes/class-wp-hook.php
on line
315
Warning
: Invalid argument supplied for foreach() in
/home/customer/www/cutimari.it/public_html/wp-includes/class-wp-hook.php
on line
315
Warning
: Invalid argument supplied for foreach() in
/home/customer/www/cutimari.it/public_html/wp-includes/class-wp-hook.php
on line
315
Warning
: Invalid argument supplied for foreach() in
/home/customer/www/cutimari.it/public_html/wp-includes/class-wp-hook.php
on line
315
Warning
: Invalid argument supplied for foreach() in
/home/customer/www/cutimari.it/public_html/wp-includes/class-wp-hook.php
on line
315
Warning
: Invalid argument supplied for foreach() in
/home/customer/www/cutimari.it/public_html/wp-includes/class-wp-hook.php
on line
315
Warning
: Invalid argument supplied for foreach() in
/home/customer/www/cutimari.it/public_html/wp-includes/class-wp-hook.php
on line
315
Warning
: Invalid argument supplied for foreach() in
/home/customer/www/cutimari.it/public_html/wp-includes/class-wp-hook.php
on line
315
Warning
: Invalid argument supplied for foreach() in
/home/customer/www/cutimari.it/public_html/wp-includes/class-wp-hook.php
on line
315
Warning
: Invalid argument supplied for foreach() in
/home/customer/www/cutimari.it/public_html/wp-includes/class-wp-hook.php
on line
315
Warning
: Invalid argument supplied for foreach() in
/home/customer/www/cutimari.it/public_html/wp-includes/class-wp-hook.php
on line
315
Warning
: Invalid argument supplied for foreach() in
/home/customer/www/cutimari.it/public_html/wp-includes/class-wp-hook.php
on line
315
Warning
: Invalid argument supplied for foreach() in
/home/customer/www/cutimari.it/public_html/wp-includes/class-wp-hook.php
on line
315
Warning
: Invalid argument supplied for foreach() in
/home/customer/www/cutimari.it/public_html/wp-includes/class-wp-hook.php
on line
315
Warning
: Invalid argument supplied for foreach() in
/home/customer/www/cutimari.it/public_html/wp-includes/class-wp-hook.php
on line
315
Warning
: Invalid argument supplied for foreach() in
/home/customer/www/cutimari.it/public_html/wp-includes/class-wp-hook.php
on line
315
Warning
: Invalid argument supplied for foreach() in
/home/customer/www/cutimari.it/public_html/wp-includes/class-wp-hook.php
on line
315
Itineraries
Running and Cycling Itineraries
The Agriturismo Cuti Mari is situated in the heart of the protected nature oasis of the Alimini Lakes. Round about paths for trekking and cycling are visited throughout the year by tourists coming from all over Europe. The ideal periods for enthusiasts of these sports are from April to June and from the end of August to the end of October.
The oasis stretches towards the sea for about 10 kilometres. In the centre the humid zone consists of two large lakes, the large Alimini Lake (Alimini Grande) and the small Alimini Lake ( Alimini Piccolo), connected by a bridge. The Alimini Lakes are a reference for lovers of bird-watching. There are numerous species of bird- life and wild animals who have created a permanent home here.
The paths inside the oasis and along its perimeter are partly for walkers and partly for bikers.
Alimini Grande is surrounded by a rocky edge and by a deep pine-wood with Mediterranean scrub. It is about 2.5 kilometres long and 4 metres deep.
Alimini Piccolo is about 2 kilometres long and has a low flat coast and is 2 metres deep.
Numerous springs are to be found in the area, the most well-known being called "Zudrea".
At sunset the sky becomes golden and the Alimini Lakes offer an unforgettable sight in a place without time.
The Agriturismo Cuti Mari also has a running itinerary which goes through the large park of
the property.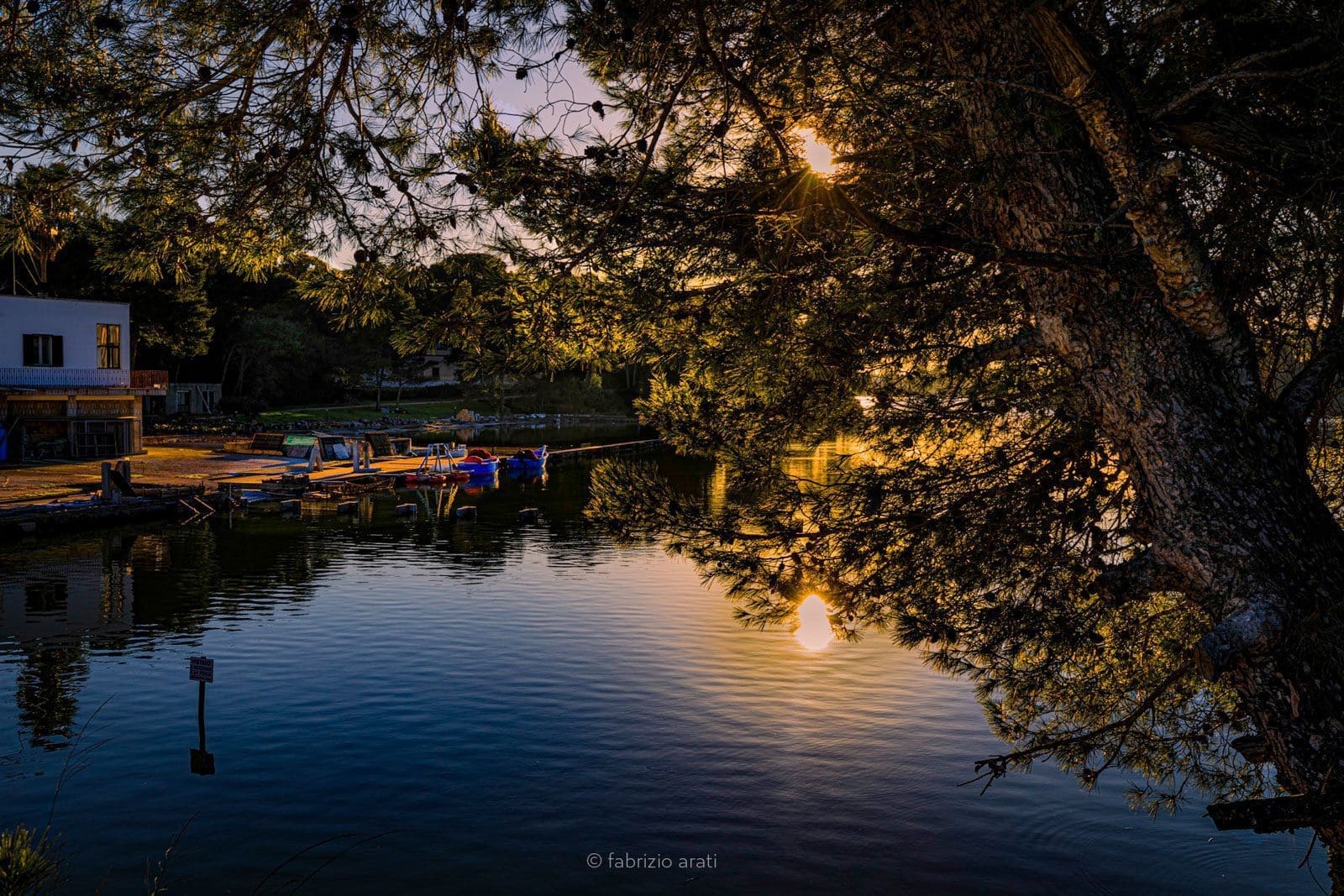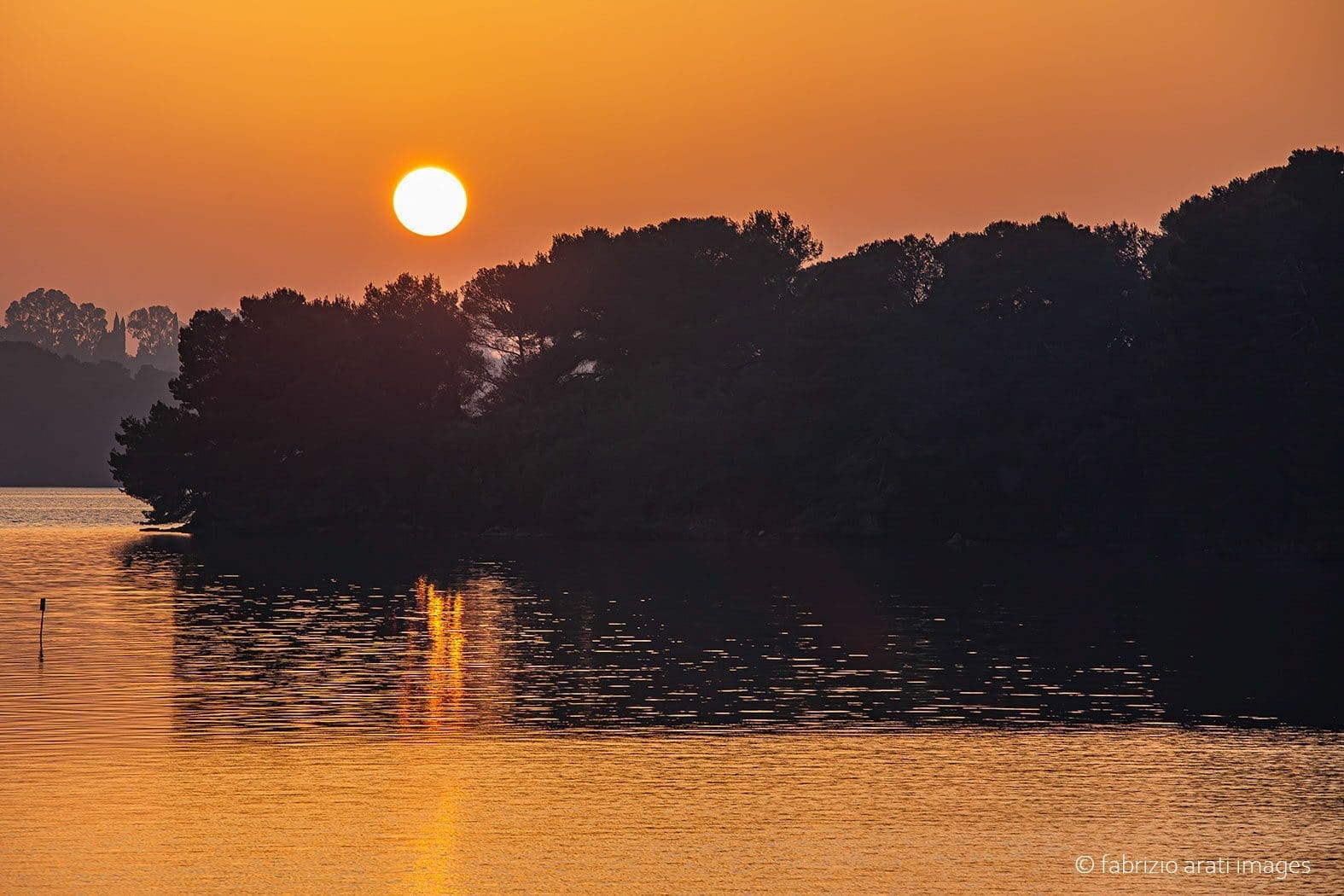 Running
at tenuta Cutimari
Other sporting activities
For those who like cycling mountain bikes can be rented on the property.
Nearby there are various riding centres for guests who enjoy horse-riding. Near the lakes it is possible to rent canoes and water-bikes for splendid excursions on the lake and as far as the sea.